Porcelain Veneers in Alhambra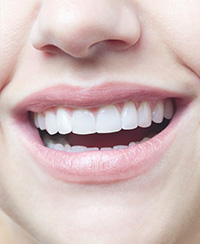 What are porcelain veneers?
Porcelain veneers are a thin layer of material that is placed strategically over the surface of the tooth in order to restore its aesthetic features. When teeth are cracked, chipped, severely discolored, worn, or positioned incorrectly, Dr. Andrew Mutch recommends the use of porcelain veneers to bring teeth in perfect proportion with the rest of the patient's oral structures.
What are the advantages of using porcelain veneers?
Porcelain veneers are able to change the shape color, length, or the width of a patient's teeth. They are very thin, shell-like restorations that are semi-translucent and permanently bonded to the teeth to improve their appearance or protect the surface from further damage. They are resistant and less prone to chipping then regular dental bonding.
What conditions can benefit from the use of porcelain veneers?
Porcelain veneers may be used to restore one or several teeth at the same time. Because of this feature, there are a number of conditions that can be addressed by the use of such veneers:
They can lengthen our widen the teeth in cases when the patients have smaller sized teeth that cannot be easily fixed by conventional orthodontics
They can cover-up and strengthen teeth that have become severely worn away at the edges
They can be used to treat teeth that appear to be crooked
Because they are able to restore oral stability and functionality, veneers may prevent premature facial wrinkling due to loss of facial muscle tone
Porcelain veneers can provide teeth with consistent shape, color, and symmetry throughout the patient's mouth
They can close gaps in between teeth
They can cover up the blackened areas on the surface of the teeth that are caused by the recession of the gums
How long does it take to get porcelains veneers?
Perhaps one of the greatest advantages of using porcelain veneers is that this procedure usually only takes two visits to complete. And, depending on how well they are taken care of, porcelain veneers can last indefinitely.
Request an appointment, or contact the office of Dr. Andrew Mutch.