Invisalign Services in Alhambra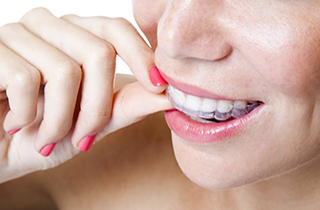 What is Invisalign?
Invisalign is the invisible way to straighten teeth, using a series of custom-made, nearly undetectable aligners.
Why use Invisalign?
Whether your teeth are crowded, too far apart or have shifted, Invisalign may be right for you. It is an excellent choice for treating crooked teeth mainly because of its flexible plastic composition that provides unparalleled comfort, and its removable feature that makes it very convenient for the patient to clean.
It also eliminates food restrictions that are typical of conventional metal braces. In addition to realigning the teeth, the system has been known to correct other various dental inconsistencies including overcrowding, overbite, crossbite, underbite, and even gaps in between the teeth. These aligners are custom-made, which insures that every appliance is a perfect fit every time.
What should I expect from the Invisalign process?
Prior to the installation of the patented aligners, a comprehensive assessment will be carried out to determine the most effective treatment plan that will be able to address all of the patient's needs.
To begin, the dentist will take photographs, x-rays, and impressions of the patient's teeth.
Using these images, the Invisalign patented system will create three-dimensional representation of the patient's teeth and other oral structures.
Thanks to the latest advances in 3-D computer technology, a virtual treatment plan will then will be generated by the system, carefully translating and mapping out Dr. Mutch's instructions for the calculated progression of the movement of the patient's teeth over the specified treatment period.
For each phase of this virtual plan, a corresponding aligner will be fabricated.
When all of the aligners have been completed, the patient will be asked to use the first set for about two weeks. The aligners will move your teeth gradually week by week until you achieve the smile you have always desired.
Finally, no more braces to hold you back! Dr. Mutch will work with you to get the beautiful smile you have always wanted.
Request an appointment, or contact the office of Dr. Andrew Mutch.