Dr. Mutch, Your Dentist in Alhambra, CA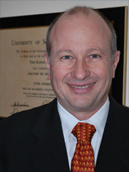 For a caring, professional dentist in Alhambra, CA, visit Dr. Andrew Mutch, who has been serving the Alhambra community with first-class dental care for more than 25 years.
Dr. Mutch believes it is his personalized approach to care and dedication to detail that distinguishes his practice from others. He combines his outstanding experience with a genuine commitment to meet and understand the needs of his patients. Whatever your dental needs, Dr. Mutch and his compassionate team strive to educate and empower you to be a proactive long-term partner in your own dental health. They are here to make your overall dental experience a positive and relaxing one, and to help you maintain a healthy, beautiful, and confident smile throughout your life.
Dr. Mutch obtained his Doctor of Dental Surgery (DDS) degree from the University of Southern California. Since then, he has continued to further his education with a variety of healthcare and educational service courses. Dr. Mutch is committed to staying abreast of the latest advances in dental techniques and technology, so he can provide you with the best that cosmetic and restorative dentistry has to offer.
As a leading dentist in Alhambra, CA, Dr. Mutch is affiliated with these prestigious organizations:
Member, American Dental Association
Member, San Gabriel Dental Society
Member, California Dental Association
Dr. Mutch and his wife Ileana live in San Marino with their two daughters, Lauren and Megan, who just recently graduated from the University of San Francisco. Outside of work, Dr. Mutch enjoys spending time with his family, skiing, golfing, and traveling.
We look forward to meeting you! Please call our office at (626) 282-2552 with any questions, or to schedule your smile appointment with Dr. Mutch, a premier dentist in Alhambra, CA, today.