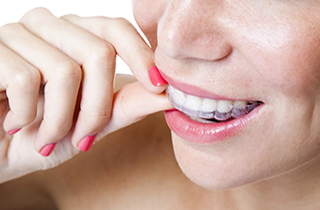 Invisalign provides a way of redressing cases of crooked and crowded teeth, gaps and overbites without the need for traditional braces. Invisalign aligners are popular for their discreet nature and a totally different way of working towards achieving the same results as braces.
At Andrew Mutch DDS office, our dentists scan your teeth and develop a super-accurate 3D image of them, which will be used to create your first set of aligners. Over time, we will be supplying you with slightly varied aligners at intervals of around two weeks for a period of 18 to 22 months.
To save you too many trips to our offices, sometimes we can give you up to two or three more sets of aligners for the next six weeks or so, but this will depend on the extremity of your case.
The idea is to have the Invisalign gradually adjust your teeth according to its shape until the desired results are achieved.
Are Invisalign aligners better than traditional braces?
While Invisalign doesn't boast a history as big as braces, which have been used for almost a century now, the results of the two teeth-straightening options have been shown to bear no differences at all. Perhaps what sets them apart from each other is how they look, how they work and how long it takes them to produce results.
Braces are pretty conspicuous and have been designed to be functional rather than impressive.
Invisalign aligners, on the other hand, are virtually invisible on your teeth. They take lesser time to produce results as well and can be removed and inserted back on a daily basis.
Will Invisalign aligners impact my lifestyle?
At Andrew Mutch DDS office, we advise our clients against smoking, drinking or eating while wearing the aligners. Smoking causes discoloration of your aligners while drinking alcohol may deposit sugar between the aligners and teeth leading to dental diseases.